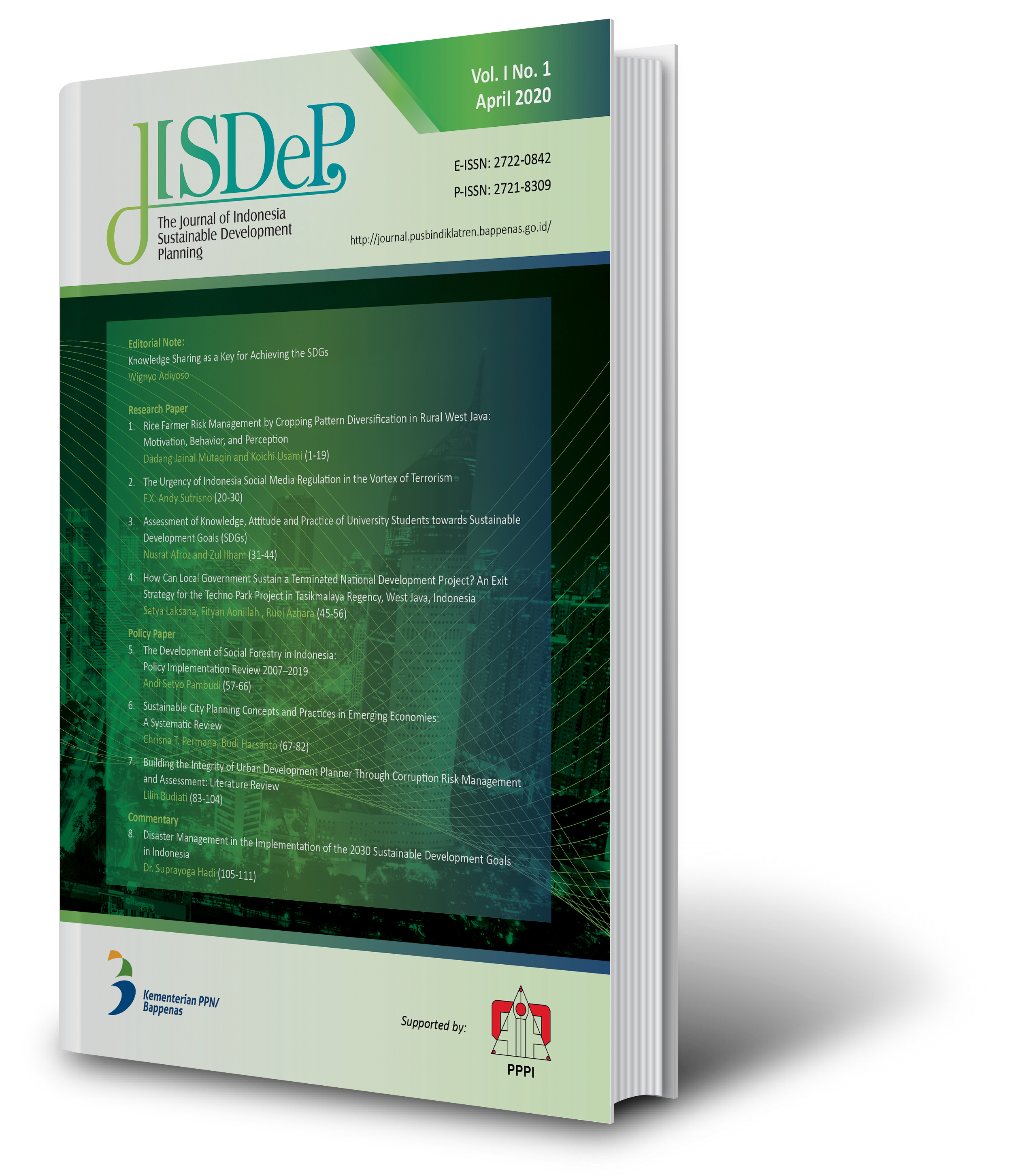 The Journal of Indonesia Sustainable Development Planning (JISDeP) is a journal published by Centre for Planners' Development, Education, and Training (Pusbindiklatren), Ministry of National Development Planning/National Development Planning Agency (Bappenas) and supported by Indonesian Development Planners Association (PPPI).
This journal aimed at studying the issues of sustainable development from around the world to later be used as policy material in sustainable development planning in Indonesia, developing countries, and the world in general.
This journal absorbs theoretical scientific studies as well as empirical experiences from researchers around the world, primarily from researchers who specialize in developing countries, to then publish them all widely to international forums as an applicable and innovative knowledge.
This journal gives important weight to the issue of sustainable development and planning with regard to the mental and spiritual development of the people of Indonesia and the people of the world in terms of ideology, politics, economics, social, culture, environment and other strategic issues about sustainable development planning. The topics may cover, but not limited to, the following sub-topics:
• poverty alleviation, community development and small business enterprises;
• food security and agriculture;
• health and well-being issues;
• quality education, employment, and skill development;
• gender equality and disadvantages people;
• water and sanitation, marine and coastal development;
• peace, justice and strong institution;
• climate change, environment and disaster mitigation;
• smart city, tourism, waste management, urban and regional development;
• industry, public infrastructure and innovation;
• migration, smart mobility, and transportation;
• economic development, equity and finance.
Peer Review Process
JISDeP is an open access journal. All of the research article submitted in this journal will be provided in online version and can be free full downloaded. JISDeP also uses peer-review process by blind reviewer. The decision of accepted or not the article is determined by the agreement of both of editor's board and the reviewer.
Publication Frequency
JISDeP are published three times a year which are in April, August, and December of respective year.
Open Access Policy
This journal provides immediate open access to its content on the principle that making research freely available to the public supports a greater global exchange of knowledge.
All articles published Open Access will be immediately and permanently free for everyone to read and download.
Plagiarism Policy
Manuscript will be check for plagiarism before they undergo the peer-review process. JISDeP is strictly against unethical act including plagiarism. In case submitted papers are proven to be plagiarized before the peer-review process, they will be rejected. If a manuscript is proven to be plagiarized after publication, the chief editor will initially investigate and contact related parties and make decision to withdraw the published paper if it found to be plagiarized.
Free of Article Processing Charges (APC)
All papers published in JISDeP are open access and freely available online for public. JISDeP covers the range of publishing services such as review process, production, proofreading, hosting, indexing and publishing. However, in case authors request printed publication of journal, it will possible to apply an article-processing charge (APC).
Copyright Notice
This work is licenced under a https://creativecommons.org/licenses/by-sa/4.0/
Privacy Statement
The names and email addresses entered in this journal site will be used exclusively for the stated purposes of this journal and will not be made available for any other purpose or to any other party.